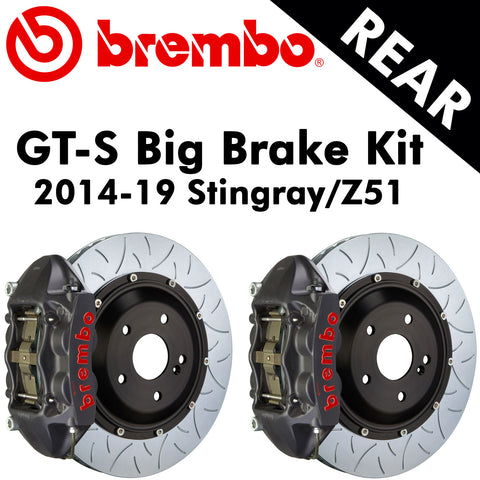 2014-19 Corvette Stingray/Z51 Brembo GT-S Rear Big Brake Kit
Brembo is the industry leader in brake component design and technology. Brembo is OE on major manufacturers such as Aston Martin, Bentley, Cadillac CTS, Corvette, Dodge Viper, Ferrari, Lamborghini Aventador, Lexus RC F, Maserati, Mercedes-AMG, Nissan GT-R, Pagani, Porsche and major automotive racing teams.  Brembo has perfected its GT Big Brake Kits with years of race-proven design, engineering, & manufacturing technology.  Brembo combines the needs of an everyday driver and track enthusiast with the advanced technology tested and gained from their professional racing divisions. 

Brembo GT Big Brake kits come with opposed piston calipers and are designed for high thermal resistance and precise braking modulation.  Unlike any 1 piece brake rotors, the lightweight 2 piece floating Type 3 disc allows the rotor to remain in line with the brake caliper, even under extreme conditions such as hard cornering at the track. This unique design provides the highest overall braking confidence, control, and allows the driver to spend less time on the brake pedal. When chasing the fastest lap time, less time on the brake pedal typically leads to a quicker lap time. They increase thermal capacity to dramatically reduce brake fade.
More braking torque and thermal capacity on the track

Using radial-mounted fixed calipers together with oversized discs gives the system greater braking torque and superior thermal capacity. The result is a braking action that is noticeably more immediate and decisive even in normal road usage, and is extraordinarily powerful and consistent under the repeated loads of track use. 

Fixed calipers improve the durability and efficiency of the system: the opposed multiple pistons act on the pads with more precision, due to the smaller piston diameter and the reduced pressure exerted on each individual piston, while the greater overall surface area between the pads and pistons results in more uniform friction surface wear. The superlative stiffness of the calipers and the metal braided hoses reduce brake fluid absorption. The result is improved, more stable brake pedal pressure, making it possible to modulate braking force more precisely and enhancing pedal feel. 

Featuring a hat in aluminum alloy, the oversized floating disc system reduces unsprung mass (for improved handling) and thermal stress. The mounting system is engineered to permit a greater degree of both radial and axial float. 

This characteristic, together with the greater dimensions of the braking rotor surface, improves the dispersion of the heat generated by the repeated, intense thermal stress that the discs are subjected to, for consistent braking performance and pedal feel even after numerous laps on the track.
Features:
Brake System Type:  Brembo GT-S big brake
Application:  Improves thermal stability over OE braking system needed for high performance & occasional track use.
Caliper Body: Cast monoblock radial mount.  Radial mounting provides two planes of adjustment for accurate alignment over the disc.  The monobloc design provides stiffer brake feel and increases the overall efficiency and stopping power of the system.
Caliper Mounting:  Directional.  A small arrow cast in place provides direction of disc rotation. The bleed screw(s) must be at the top of the caliper when installing.
Caliper Color: Hard anodized
Number of Pistons: 4
Dust Seals Included:  Yes
Disc Size and Construction: 380MMx28MM 2-piece
Disc Type: Slotted type-3.  Motorsport developed face with emphasis on the high initial response while maintaining a smooth pedal release.  This design provides the highest overall braking confidence, control, and allows the driver to spend less time on the brake pedal for quicker lap times.
Disc Vane Design: Vented curved 48 vane incorporates exclusive venting system that improves cooling capacity and increases resistance to cracking caused by thermal shock by over 40%
Disc Material: Advanced high carbon alloy/corrosion resistant plating
Disc to Hat Mounting: Floating D-bobbin with anti-rattle spring helps eliminate noise.  The bobbin type fasteners allow the disc to expand and contract under high temperatures reducing stress and increasing the longevity of the rotor and related components.
Brake Lines:  Uses factory brake lines
Position: Rear
Brake Pads Included:  Yes
Brake Pad Compound:  Ferodo FM1000, daily driving, occasional track use
Compatible With Factory ABS:  Yes
Compatible With Factory Traction Control:  Yes
Compatible With Factory Master Cylinder:  Yes
Minimum Wheel Diameter Required:  19"
Specifications:
Shipping Dimensions:

  2 Boxes: 31.125 x 6.125 x 18.500"

Shipping Weight:  70 bs.
Country Of Origin:  Italy
Warranty: Unspecified
Quantity:  Sold as a set
Availability: Drop-ships direct from the manufacturer
Applications
Models
Years
Stingray Coupe
2014-2019
Stingray Convertible
2014-2019
Stingray Coupe Z51
2014-2019
Stingray Convertible Z51
2014-2019